Happy May 2-4, everybody!
Canadians get pretty excited about this long weekend, which technically is to celebrate Queen Victoria's birthday, but that most of us see as the kick-off to summer – patio, outdoor concerts, beaches, camping, barbecues, cottaging! (I could go on, ha ha.) It's as if all of our pent-up cabin fever gets released in three days. (Maybe it's just me.) The weather this weekend is supposed to be sunny and warm too. Sigh, I'm so happy!
Another reason for my hyperactivity is that I recently finished the novella I've been working on all year – like today! So, I'm definitely in a festive mood.
I'm thrilled to spread the joy with these vegan Gluten-free Oatmeal Chocolate Chip Cookies. I've been meaning to adding gluten-free recipes to the blog for a while now, so hopefully this will be the first of many. I'll be making a triple batch of these for my nephew's birthday bash next weekend. He tried them for the first time a couple of weeks ago and loved them. Hey, if an almost eight-year-old approves a gluten-free cookie, it's got to be good.
I got the recipe from a cookbook that I am in love with called OH SHE GLOWS. (Here's a link to Angela Liddon's blog: http://ohsheglows.com.) The recipe below is slightly modified from the original, based on the ingredients I had available at the time.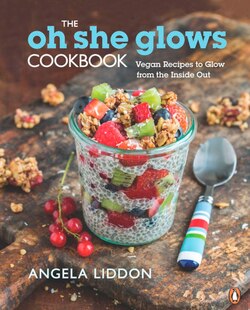 Over the spring and summer, I hope to post a series based on the recipes from the cookbook. If you're looking for a solid vegan/vegetarian cookbook, I highly recommend picking up this one. Ha ha, funny story. I actually bought a copy for my sister last Christmas and borrowed it…I've kept it for too long and now I'm not sure I'll give it back. (Just kidding, NK! ;-) )
Happy Friday, and to all the Canucks out there, have a fantastic Victoria Day long weekend! I'm looking forward to catching up on what you've all been up with my extra free-time.
Thanks for dropping by,
A :-)
Gluten-free Oatmeal Chocolate Chip Cookies
Makes a dozen
Ingredients:
1 Tbsp ground flax
1/4 c Earth Balance
1/4 c all-natural peanut butter (Or almond butter, which is what she uses in the cookbook.)
3/4 c brown sugar
1 tsp vanilla
1/2 tsp baking soda
1/2 tsp baking powder
1/2 tsp fine-grain sea salt
1 1/2 c gluten-free oats, blended into flour (FYI: Oats are naturally gluten-free, however, many oats are processed in the same facilities as wheat etc, and so become contaminated. If you have a sensitivity, buying so-called GF oats assures that the oats have been processed in a GF facility.)
1/4 c chocolate chips
Directions:
Preheat oven to 350 degrees and very lightly grease a baking sheet or line with parchment.
In a small bowl, combine flax with 3 Tbsp water and leave to soak.
Using a blender, pulse the oats into flour and set aside.
Using a stand mixer, beat Earth balance and peanut butter until smooth. Add sugar until combined. Add vanilla and flax.
One at a time, beat in baking soda, baking powder, salt and oat flour. The dough should be a little sticky. Fold in the chocolate chips.
Roll into 1-inch balls and place on baking sheet a couple of cms apart.
Bake for 12-15 minutes, until golden on the bottom. Let cool on the baking sheet for 5 minutes and then transfer to a cooling rack. The cookies will be soft when they come out but will harden as they cool. Enjoy!