Happy Year of the Fire Monkey, les amis! As an 80s child, this is my year. Apparently though, the Year of the Monkey isn't supposed to be great for Monkeys…superrrr! I've been building this up to people all year. I guess I should have done a bit more research. ;-)
I meant to learn how to bake sweet steamed buns for the blog but it's been insanely busy with writing and querying lately. Last week, I finished the novella I'd been working on for the past eight months and submitted it to a literary magazine contest, so we'll see how the universe responds. Since then I've dived back into my latest novel WIP. Finding the flow was a bit painful after a few months away but things are moving along and coming together scene by scene.
Later in the week I hope to post a recipe for chocolate soufflé. (Some of you already know this because I've been soliciting your expertise.) That is, if it ends up being blog-worthy.
Anyway, here are some quotes for you.
Wishing you health, happiness and prosperity for an abundant Year of the Monkey!
A :-)
On Womanhood:
*I just finished this book and highly recommend it. It's deeply unsettling but an important read.
"The chastities keep asking me why I can't sleep. I am at the maximum permitted dosage of SleepSound, they say, eyes narrowed in suspicious concern.
Are you taking it correctly, freida?
Are you taking it all yourself, freida?
Yes. Yes. Now, can I have some more? Please?
No more can be prescribed. Not safely anyway, they say. They warn of muscle spasms. Internal bleeding. The corrosion of vital organs.
But I cannot see these "vital organs" in the mirrors. All I can see are dark circles under my eye, a gray pallor like a dusting of ashes over my face. The hallmarks of too many nights spent burrowing a hole in my mattress, tossing and turning, yearning to join the perfectly synchronized breathing of my sisters. I can hear them now, sucking artificial heat into their lungs greedily, oblivious to me, lying in my cot, buzzing like an exposed wire.
I am a good girl. I am pretty. I am always happy-go-lucky.
The robotic voice spills down the walls and crawls along the floor, searching for a receptive ear. And we eves are more receptive when sleeping. We are like sponges, absorbing beauty, becoming more and more lovely as we dream. More and more valuable.
Except for me.
Night after night, I lie awake, nothing but the Messages to distract me from my clamouring thoughts. chastity-ruth says thinking too much robs you of your beauty. No man will ever want a companion who thinks too much. I do try to be more controlled. I try to shape my mind into nothingness. But when night falls in the dorms the demons stir, their eyes flashing white in the dark, looking for something to feed on.
I am a good girl. I am appealing to others. I am always agreeable.
– Only Ever Yours by Louise O'Niell, 2015: 1-2.
On Love as a Place:
"Love is a house with many rooms, this room to feed the love, this one to entertain it, this one to clean it, this one to dress it, this one to allow it to rest, and each of these rooms can just as well be the room for laughing or the room for listening or the room for telling one's secrets or the room for sulking or the room for apologizing or the room for intimate togetherness, and, of course, there are the rooms for new members of the household. Love is a house in which plumbing brings bubbly emotions every morning, and sewers flush out disputes, and bright windows open up to admit the fresh air of renewed goodwill. Love is a house with an unshakable foundation and an indestructible roof. He had a house like that once, until it was demolished. Now he no longer has a home anywhere."
– The High Mountains of Portugal by Yann Martel, 2016: 23-24.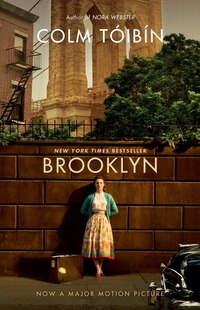 On Choosing a Path:
"[He] would find her note among the bills and business letters. She imagined him opening it and wondering what he should do. […] And, as the train rolled past the Macmine Bridge on its way towards Wexford, Eilis imagined the years ahead, when these words would come to mean less and less to the man who heard them and would come to mean more and more to herself. She almost smiled at the thought of it, then closed her eyes and tried to imagine nothing more."
Brooklyn by Colm Toibin, 2009: 262.